"He sees you when you're sleeping. he knows when you're awake. He knows if you've been bad or good..."







It sounds to me like Santa is keeping some Sexy Secrets! It's time for another Scandalous Writing Contest here at Scandal in the Choir Loft! It's Christmastime and I'm ready to read your stories of Holiday Delights :)




Any Holiday Themed Erotica is welcomed! We won't discriminate, so Hanukkah or Solstice stories are welcomed as well!




It's easy to enter. Simply post your submission on your own blog along with the contest button before December 13th and link up your entry post below. If you don't have a blog or would rather enter anonymously simply email your entry to scandalinthechoirloft at gmail dot com and I will post it here under whatever name you prefer!




On December 14th I will post the rating links. You can rate all of the stories if you'd like! Or you can simply rate your favorites! I will announce the winners on December 21st.




Now for the good part, the prizes! There will be lots of "joy spreading" here :)




First Place: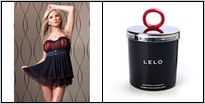 Second Place:

So get those stories written and get link them up!