I would hope that by now anyone reading this has checked out all of awesome shopping that EdenFantasys has to offer. From
sex toys
to erotica to lingerie, EdenFantasys has something for everyone!

One of my favorite things about EdenFantasys though, is that they honestly LOVE bloggers! They have so many awesome programs that let bloggers earn gift cards just by doing what we love to do! Write!
Through the EdenFantasys Ambassador Program you can earn gift cards by posting about the company (like I'm doing right now) but you can also earn gift cards by submitting content to Eden Cafe! They post all kinds of relevant articles on sexuality, community, relationships, and of course they keep everyone up to date on the newest sex toys out there.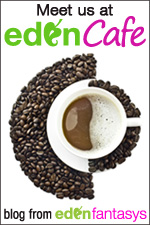 If you are a blogger and you have something to say, check out Eden Cafe and see if it is for you! If you don't know where to start they even have a section dedicated to
Writing for EC
. You can find guidelines and content topics all right there! You can even submit erotica!
EdenFantasys treats bloggers so well. They are a great company to work with as well as shop with. Why not combine the two?!
I received a gift card in exchange for this post.