I purchased the
Plus Size French Maid Babydoll by Coquette
from Edenfantasys. I loved this costume. The laces in the front allow for some adjustment to the size so that it actually can be loosened or tightened according to your waist. I prefer the halter top style for several reasons. One, I just like the way it looks on me; two, it makes for easy removal ;) The little headband that came with it wasn't too small, which has been a problem with costume headbands I've tried in the past. The mesh material was silky and soft against my skin. It wasn't scratchy at all. The lace ruffles were soft as well. Unlike some other costumes I've tried I was in no hurry to get this one off, it was actually very comfortable.
My boyfriend loved it! It really was perfect for bedroom play. It's hard to find good plus size lingerie without paying a fortune, but EdenFantasys is really getting a good selection! I recommend trying something out with your honey this month to celebrate the season :)
Don't forget, If you'd like to win a sexy little costume, you should enter the
Scandalous Halloween Writing Contest
! If I receive 10 entries the winner can choose a costume of their choice valued up to $75!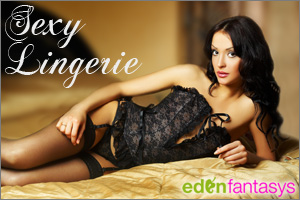 I purchased this product with gift cards I'd earned through EdenFantasys programs. I was in no way required to review this product. This review contains affiliate links but this in no way effects my opinion of the product. All views contained above are my own. Images borrowed from EdenFantasys.com