It's time again to write your scandalous tales of sex and desire for the Scandalous Halloween Writing Contest! For this contest I want your spooky Halloween Stories. They can be paranormal erotica stories, or stories of sex in spooky haunted houses. Maybe you know more how to write about a quickie while the kids are occupied with trick-or-treating! I can't wait to see what you all come up with!
It's October and I looove Halloween! By now a lot of you know the drill but here is how it works for the newbies :) Write your scandalous story and post it on your own blog with the contest button OR write your story and e-mail it to me to be posted here under whatever name you choose. (Anonymous entire are welcome). If you post it on your own blog be sure to link up below.
Entries will be accepted through October 18th. Voting will take place October 19th through the 25th! I will announce the winner on the 26th. Hopefully in doing so the winner will get their address to me in time for their prizes to arrive for Halloween!
Just like last time the value of the prizes will be based on the level of participation! The winner of the contest will receive a copy of "Dream Lover" a collection of Erotic Paranormal Romance Stories and a "Faith"Vibrator by Evolved toys. I think most of you know I purchase these prizes through EdenFantasys and in Honor of Breast Cancer awareness month this is part of the prize package because a portion of the proceeds go to Evolved's Save the Tatas foundation!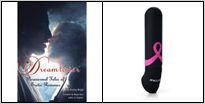 Now, if there are MORE THAN 5 ENTRIES, I will give a second place prize as well. A copy of "The Sweetest Kiss", A collection of Vampire Erotica by D.L. King.

Here is the kicker, and a big reason that you will want to help me promote this contest, IF I RECEIVE AT LEAST 10 ENTRIES the First Place winner will have a choice between the prize package listed above plus a $25GC to EdenFantasys (Provided by myself) OR their choice of a Halloween Costume from Edenfantasys valued up to $75!


OR



So get to writing those stories!
Rules:
1) NO rape fantasies.
2) NO humiliation. D/S is totally cool as long as both parties are willing participants. There will be no beating victims into submission.
3) NO "Golden Showers" or anything like that. I haven't seen it yet, but everyone else has it as a rule so I figure better safe than sorry.
This contest is sponsored by me. The winner is determined after a popular vote that is opened up to the readers of this blog. I shop with EdenFantasys but this contest is in no way associated with that company.