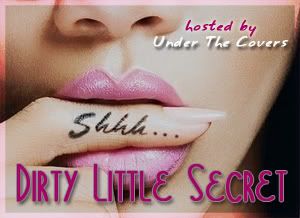 Dirty Little Secret is a weekly meme hosted by the girls at Under the Covers. Every Thursday they ask a question hoping to reveal everyone's dirty little secrets.
To participate in the meme all you need to do is:
1. Be a follower of
Under the Covers
.
2. Create a post in your blog taking the meme image (code above) and copy instructions.
3. Answer the question! This can be done in any way you like, post a video, write a post etc.
4. Then add your link on their post!
This weeks question:
"
You have been viciously attacked, but then saved by the tall, dark vampire of your dreams; however, he has had to change you into one of the blood sucking denziens of the night to save your life. After realizing that your favourite snack is now going to be a sip of O negative, what food do you begin to think you will lose your immortality for?
"
This one is pretty easy for me. Cheese Fries. I love cheese fries. I'm doing good about not eating them very often because I'm trying to be healthy, but cheese and french fries are two of my favorite things and together they make the perfect meal, er, appetizer ;).
We could go a step farther and say cheese in general. I do love cheese on just about anything.