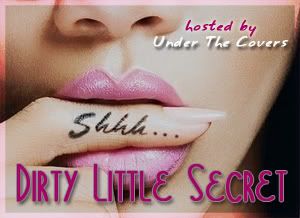 Dirty Little Secret is a weekly meme hosted by the girls at Under the Covers. Every Thursday they ask a question hoping to reveal everyone's dirty little secrets.
To participate in the meme all you need to do is:
1. Be a follower of
Under the Covers
.
2. Create a post in your blog taking the meme image (code above) and copy instructions.
3. Answer the question! This can be done in any way you like, post a video, write a post etc.
4. Then add your link on their post!
This weeks question:
"
If you could jump into a time travel machine and it takes you back to when you were a kid, what would your TV be playing then?
"
I remember watching My Little Ponies all the time, and I had this video of Rainbow Brite that I totally wore out. Does anyone else remember the Gummi Bears cartoons? I remember that one character that was always saying "Okie Dokie, Dookey!"

When I got a little bit older I like to watch the Mickey Mouse Club and Kids Incorporated :) I loved all the music. I could only watch that at my grandmother's though because she had a satellite dish.