Hey everyone! Tomorrow is October 1st! The Halloween season is upon us! For kids it's all sweet treats and games, so why not have a little adult version of the fun? I personally plan to pull out last years costume for my man pretty soon. It should make for some fun bedroom entertainment ;)
I was thinking about what to wear myself this year and I thought I might try to find something in keeping with my secret persona. What do you think?
I'm pretty partial to the first option ;)
EdenFantasys
has all kinds of sexy treats for the adults this Halloween. In fact at this moment their costumes are on sale! But the deal expires tomorrow so you have to hurry!
Of course it wouldn't be Halloween without a little paranormal behavior! Treat yourself to some scandalous reads from EdenFantasys Erotica Collection! I'm partial to Witches and Wizards myself.

What are all of you planning for Halloween this year? Do you dress up? What kind of costumes do you go for if you do? Do you ever re-use old costumes in the bedroom?
Edenfantasys is the place for all of your naughty trick or treating this year :) Check them out for all your
sex toy
needs as well.
Keep it Sexy!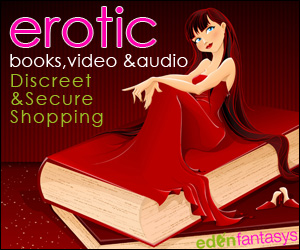 Images borrowed from edenfantasys.com. This post contains affiliate links. This post was written as a part of the Edenfantasys Ambassador program and I was provided a gift card for the post.