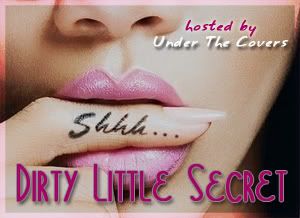 Dirty Little Secret is a weekly meme hosted by the girls at Under the Covers. Every Thursday they ask a question hoping to reveal everyone's dirty little secrets.

To participate in the meme all you need to do is:

1. Be a follower of Under the Covers.
2. Create a post in your blog taking the meme image (code above) and copy instructions.
3. Answer the question! This can be done in any way you like, post a video, write a post etc.
4. Then add your link on their post!

This weeks question:

"
If you were the heroine of a novel, who would be your sidekick?
"
If I were literally the heroine of a novel, my sidekick would be a never-ending cup of coffee, lol.
I think we're picking sidekicks from other books but I feel like my sidekick would be something more like the character Judy Greer played in the movie 27 Dresses. A non-committal smart-ass with a love for men :)
I would have to have someone to talk trash with after all!