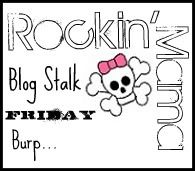 I'm linking up with
Rockin' Mama
for Blog Stalk Friday. And of course I'm also linking up with Fawk You Friday hosted by the amazing
Boobies
and
Christy
!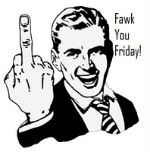 Where to start?
Fawk You to pregnancy scares. It's not cool, not at all.
Fawk You to the little sister's boyfriend. He's too old for her. I've never liked it, and I really don't like that he now comes to every family gathering including my dad's birthday dinner at my house tonight! Grr... back off kid, date someone your own age!
Fawk You to busy schedules!! I haven't laid eyes on my best friend in two weeks! Agh! I'm going through withdrawals! (Seriously J, I'm shaking uncontrollably. We have to fix this!)
Fawk You to hard decisions. I'm looking for a new job because I need more money, but I love my current job, so it's really hard for me to want to leave. It's just a struggle right now in that area.
So how is everyone else doing this week? Link up with Fawk You Friday if you need to let off a little steam!