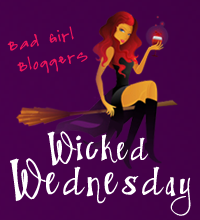 Ok, so I've been moving all weekend and I'm exhausted! The moving consisted of cousins who volunteered to help and then never showed up, a flat tire, and a dead battery. It was exhausting! But all of my furniture is moved now and since there was no rush to get out of my dad's place I have time to do everything else all along the next few weeks!
So for Wicked Wednesday I'm just going to share a few awesome sites with my Bad Girl Friends :)
First there is
KleanSpa
. I am going to write a review soon of some products I ordered simply because they are amazing. I highly recommend checking out their scrubs and butters specifically. Although, I'm loving their candles too! The next on my list is the Pink Martini Scrub!
Then there is
HipsandCurves.com
. Yes, I am affiliated. You should click the link and shop ;) But I'm affiliated because I shop there too, so it made sense. I absolutely love all of their stuff. Their sizes begin around a traditional 12/14 and go up, but everyone is guaranteed to find something that they love at Hips and Curves. I've bought a few lingerie sets, but I'm salivating over their corsets. I really want this one! --->
Then there is Liberator. If you've spent even five minutes on my blog I'm sure you've noticed my love of liberator products! My most recent purchase was the
Liberator Throe
and it was worth it!! It's nice to only have to wash up a blanket ;) Of my other products the Wedge definitely gets the most use! I highly recommend it. You can even get the Heart Wedge or the Kiss Wedge now if you are looking for something a little less suspicious. Of course what I would love is the space and the money for this thing!
Head on over to Bad Girl Bloggers and check out what everyone else is sharing today!
This post contains affiliate links.