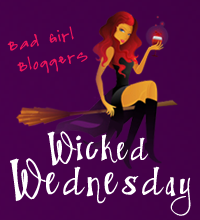 Today I'm talking about the BEST ORGASM EVER and linking up with Bad Girl Bloggers.
It was actually just a couple of weeks ago. A Saturday morning to be exact. I'm not a get up early for sex girl. I love sex, but I love my sleep even more, and I have to be good and awake to get myself going. This morning though was super lazy. We slept late and sat in bed watching tv until almost 11:00. We'd decided to have Biscuits and Jam for breakfast so the Biscuits were in the oven. I was starting to feel a little randy and I had all intentions of teasing J until the oven timer went off, then jumping on him once we'd taken breakfast out of the oven. So basically, it started out as a plan to really get his engine running. Little did I know that I would be the one essentially immobilized by an earth shattering orgasm. We teased each other for at least 20 minutes fully clothed, and while he went to empty the oven I stripped down to wait for his return. I could already feel all of my nerve endings humming and when he came back?
OH. MY. GOD.
It took about 5 seconds from the time he was inside of me for me to come, and I came hard, and it lasted forever. The truly awesome part was that my orgasm was all it took for him so it was just honestly the best sex ever. I could still feel the sensations nearly an hour later. I'm wet just thinking about it right now.
Sex is always good, but that by far took the award for Best Orgasm Ever!