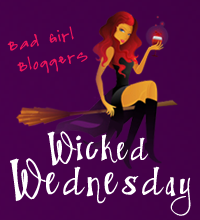 I am convinced that perhaps I was a stripper in another life. When I get drunk I have a tendency to writhe on poles and I love to be a tease, so...
So for the No Rules Edition of Wicked Wednesday I thought I'd list up my list of "Stripper Songs", meaning that when I hear the songs I get the sudden urge to dance half-naked on a pole or touch myself.
Def Leppard - Pour Some Sugar on Me
Nelly Furtado- Promiscuous
Pussy Cat Dolls- Loosen up my Buttons
Those are the main ones for me, it's not an all-inclusive list or anything. But since these songs make me feel kinda wicked I thought WW would be a good time to post them!