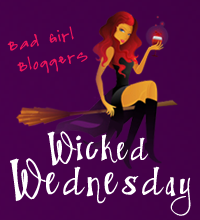 This week Jen picked Public Sex as the topic for Wicked Wednesday.This is definitely one of those stories that could out me if certain people came across this blog, but I don't really care.
It was a nice day in February, not too cold, and obviously not too hot. I took J-man out of town for his birthday and we got ourselves up and got ready to go for a hike. I'd already been toying with the idea of finding a nice spot for a little "birthday surprise" while we were out, but as soon as we hit the trail there were tons of kids. I made the off-handed comment that it was too bad there were so many kids out today, I 'd thought he might get lucky. He was excited and disappointed at the same time. Neither of us was willing to risk scarring some kid for life and getting ourselves arrested.
We followed the winding trail stopping along the way to kiss and feel, but never for very long. Then we came to this spot along the trail where the power company had recently installed power lines. They'd left fallen trees over the trail! So we were literally climbing over these branches and trunks to get back onto the trail that led to the lake. When we finally got around all the debris we were exhausted so we sat down to drink some water and catch our breath. From where we were sitting I could see at least 50 yards ahead on the trail and there was no one around. I knew we'd hear anyone coming up the trail behind us so I figured this was as good a spot as any, and if we played it right we'd see anyone that might come from the other direction.
So we went for a little kissing then I went for his pants. He was very happy. Very, very happy. I wrapped my mouth around his dick and sucked until I was so horny I couldn't stand it. Then I stood up and dropped my jeans to my ankles and sat in his lap. impaling myself on his cock. We went at it for a little while stifling moans and laughs as we heard cars passing along a nearby road. I finished him off with my mouth and we tidied up and headed on down the trail.
It was quite the day. It was really a great weekend. We passed another couple on the trail that had pulled their canoe onto the bank of the lake. They scrambled as we rounded the bend. She asked where we came from and was quite surprised that they'd settled in on a hiking trail! As we passed them J leaned down and asked me, "Think we should've told them there's a great spot about a quarter mile back?"