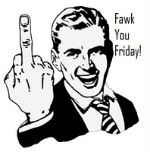 FUCK:
... being nice. I'm trying really hard, but some people just make it difficult.


... roofs that aren't really fixed and so I now sit in my office listening to the slow drip of water in my ceiling.


... people who only think they are discreet when they are talking about other people (i.e. me).


... 24 hours in a day. I'm sorry, I just need more. I can't get it all done.


... living in a house where the air stays set on 80-83. I can't put make-up on at home because it will freakin' melt off!


... people who mistreat clients just because it's after 4 and they are ready to be done for the day.
Everything else is pretty good right now. I hope everyone has a great weekend!!