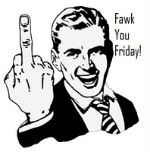 I'm a day late, but who the hell cares!
FUCK YOU FRIDAY, literally. Friday was a crazy stressful day!
Fuck you people who apparently think I don't have enough work to do. Im sure you're right, that must be while I'm months behind on my filing.
Fuck Court Dockets that chage up to and even during scheduled hearings causing me to waste over an hour of my work day.
Fuck friends who take advantage of your friendship and use their 'job' to get information they have no business having. I know this one is a little vauge but I have a 'friend' who compromised my clients confidentiality for personal reasons and that just pisses me off.
Fuck all the germs that are keeping everyone sick. J-man has been sick this week and it's thrown a kink in our weekend. (Not the good kind of kink!)
Ok, that will do for now.