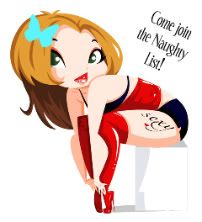 So The Naughty List is different this week and I'm going to try and get in on this. It's a question game where each person answers the Question of the one before them in the Linky.
Ginger's
Question was:
Do you have any plans for making this next year wild and exciting?
My Answer? Don't I always have wild and exciting plans? But yes, I do. J-man has promised a naughty camping trip when it warms up, and I am thoroughly looking forward to that. I also plan to go to my first strip-club this year. (How's that for a New Year's Resolution?) I've never been and I'm just curious.
My Question for the Next Person- Do you have Naughty Plans for New Year's Eve/Day?
Tag you're it! Check out
Ange
and join in!