, aOk, so I know you all hear me talk about
Edenfantasys
a lot, but I really do love this company. I personally love shopping at Edenfantasys.com because there is so much information about the products! For example, check out this product page for the
Cleo Massager by ONO
.
For starters the left sidebar gives you an quick rundown of everything you need to know about the product. There are reviews, specs, and information on the materials used. On the right you see all available colors and any notes regarding whether or not the product is in stock. Edenfantasys also lets you know whether or not batteries are included. If they aren't, there is an option to add to your cart, so that when your toys arrive you don't have to search for batteries, or worse go to the store, before using your toy.
They also have a nifty little actual size widget that allows to you see the product's real life size compared to items that you can find in your wallet for easy comparison.
Scroll down for a video review of the massager and an even more in depth product description. Because Edenfantasys has such a large community all
adult toys
and accesories are able to be ranked and commented on, so you can see what others think of the product and read their comments straight from the postings at the bottom of the page!
Similar products and forum discussions relating to the product or it's use are also linked at the bottom of the page. With Edenfantasys you will never have to make an uninformed purchase. In fact, because of the open community encouraged there, you can actually send messages to the reviewers listed on the page if you have specific questions about the product!
I'm showing you this page specifically because it's up for grabs in the Edencafe contest this week! Go to
www.edencafe.com/contest/
to enter for a chance to win your own Cleo massager. While you're there, check out all the posts from the Eden community.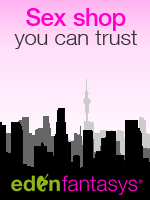 I've also written a lot about the Ambassador Program and it is changing, so I wanted to clarify on that as well. In the past you had to go onto the
Edenfantasys
website and set up and account. You'd then request a product each month and write a testimonial linking to edenfantasys. Now, however, you don't have to set up an account. (I still recommend it because the forums and other programs are great!) You simply write a post on edenfantasys, email it to Jenn[at]edenfantasys[dot]com and she will send you a giftcard code. If you're interested e-mail her for specifics on linking and such.