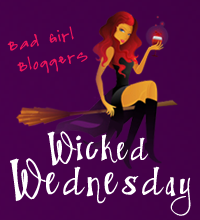 Top Ten Guilty Pleasures!
10. Reading Erotica
9. Writing Erotica
8. Polishing off a whole pizza by myself
7. Wine and cookies for dinner (don't judge)
6. Bathtub wine parties for one... or two ;)
5. Chocolate... lots of chocolate
4. Dirty text messages
3. Phone sex
2. Flirting with bitches' boyfriends
1. Making out with strangers (I'd love to do that more often)
Post your Top Ten and link-up!