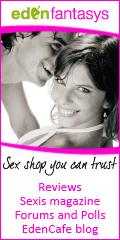 I've mentioned before that I'm a member of the Edenfantasys Ambassador Program. This program gives free product to bloggers who will link to them.
Edenfantasys
is really a great company though! Since I've hooked up with them I've found so many awesome ways to work with them! Yes, I get great
sex toys
just for blogging about them and linking to them in a post, but they've also sponsored prizes for my writing contests! This month I got a
Rub My Duckie Santa Holiday Ball
. Of course that means that tomorrow... You get a chance to get one too! Plus, I've had the opportunity to review some really great toys! They provided the
Getaway Pure
that I reviewed a few weeks ago.
Eden Cafe
is the Edenfantasys' blog, and if you haven't checked it out you definitely need to! The blog features all different kinds of bloggers from the Eden community and when you submit articles they pay in gift cards! I just cashed mine in this past week for
LELO Sutra Chainlink Cuffs
and the
LELO Intima Silk Blindfold
! How awesome is that? I've used those gift cards to get extras for my contests as well. The blog hosts weekly giveaways for awesome product.
The main website also hosts forums and an onsite review program for non-bloggers who want to try their hand at writing reviews. The information found on this site is so much more complete than anywhere else I've found. The specs and details tell you everything you could want to know about the product and the product pages are full of great reviews and videos.
Edenfantasys
is a great way to learn about sex toys if you're somewhat new to the idea, but it's a great platform to get involved if you're a little more seasoned.