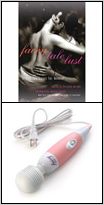 So I know as much as you do how bad you want these awesome prizes. I mentioned a while back that I joined the
EdenFantasys
Ambassador Program. They send you free
sex toys
each month and in return you write a blog post linking back to them. So I dropped the program administrator, Jenn, an e-mail to see if she had suggestions as to how I could cut costs for these contests. I love your stories, but I'm so far away from being made of money.
Anyway, I get a free product each month in exchange for linking them in a testimonial so she sent me my own
Mini Fairy Wand Massager
to tell you about and EdenFantasys will provide the one for the winner! Isn't that awesome?! So as I also mentioned, I wanted you to have a copy of
Fairy Tale Lust
, edited by Kristina Wright, so I used gift cards I got from submitting an
article
to
EdenCafe
to get a copy for myself as well as the winner.
Warning! This toy has some serious vibes!! It is so strong, even on it's lowest setting. It is strong enough to honestly work simply as a massager, and those of you who need the strong vibes to get off will love this. It was almost too strong for me to use for clit stimulation. (I mean, I did. And I got off, but for general use...) So I'm going to look into the attachments. They have attachment kits for each size wand and I want to try the
Femini attachment
.
I'm still working through the tales in Fairy Tale Lust, but so far my favorite has been Elle and the Shoemaker by Louisa Harte. It's a very hot, very sexy version of The Elves and the Shoemaker. All of them have been great though. That one is just my favorite so far.
So once again, I'm reminding you to enter the contest! I'm excited about all the response I've got and I'm expecting posted entries to start pouring in soon :) Can't wait to read your
Scandalous Fairy Tales
!