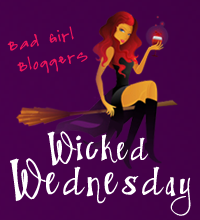 Saying goodbye to CB is not a fun thing to do, but we must. She didn't die or anything. It's actually a good thing! CB has decided to devote her time to being Ashley; Mom, Daughter, Sister, and Wife. I'm excited for her. I think it's obvious that it's what she wants and I'm glad that thousands of adoring "blog fans" didn't stop her.
So for Wicked Wednesday this week we've been charged to share our favorite CB memory. I can honestly say that it wasn't until recently that I felt like I got to know her really, I just read all the hilarious shit on her blog and laughed until I cried.
Lately though blog comments turned into exchanged e-mails and I got a better glimpse of her personality, and honestly, she was just a really cool girl! So here's to CB, she will be greatly missed! If you haven't checked her out, you should really go see what you were missing before she decides to send her blog into oblivion. Though I kind of hope she doesn't ;)
Moving on to a happy note, as I'm sure she would prefer, It's also Naughty List Wednesday!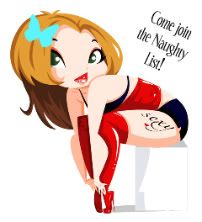 So I got fussed at for not making a list last week, so here it is.
1) I have a new cyber-sex friend, and he is very good ;)
2) I booked a sex toy party for me and J to host. Not naughty in and of itself, but I'm counting on it leading in that direction.
That's all I've got today, brain can't think.
And this weeks 5 questions:
1. How old were you when you lost your virginity?
2. Worst break up ever?
3. Ever been on a blind date? Explain.
4. Ever sent a sexy text message and had it gone to the wrong person?
5. An excuse you have used to get out of sex.
1. 22
2. T
3. Yes, High School. Dude was a douche.
4. Nope, thank god!
5. Haven't done that yet.
Check out the Hostesses and link up!!!