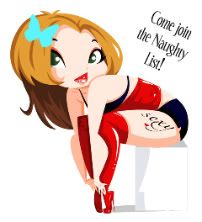 It's Wednesday! Is it bad that even J now thinks of Wednesday and Friday as mandatory blog days? I love these bad girl memes!
We'll start with the list this week!
1) I got totally wasted and actually can't quite remember every thing that I said, though J has assured me some of it was quite inappropriate since I said it to her brother!
2) I took a topless photo at my office yesterday... you'll have to check back tomorrow for more on that one ;)
3) I read Sarah McCarty's new book in 3 1/2 hours on Saturday. The act in itself wasn't naughty, but have you read that woman's stuff? Trust me, you want to!
1. When do you feel like a naughty mommy?
2. A Celebrity that makes you think naughty things!
3. Post a picture that is rated PG or PG13 but that always makes you think naughty!
4. Tell me about your first kiss!
5. Do you "prune your lady garden"? For naughty reasons or other reasons?
2) Shemar Moore. Oh, and Chad Micheal Murray. Ooo, and Channing Tatum, yummy!
3) I mentioned how good Sarah McCarty was right? ------>
4) I was in the second grade hiding behind a piano in the lunch room (I know, weird, but it really was in the lunch room) and this kid, I think his name was Micheal, showed me how they kissed on TV ;)
5) I do. Asthetics, hygeine, both good reasons. I guess a little of both.



Check out the Hostesses and link up!!!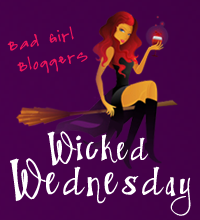 On to Wicked Wednesday with
Bad Girl Bloggers
! So let's back this train up for a minute. Friday night? I got sooo drunk. I mean, I so wasn't counting and apparently I should have. There was the pre-dinner drink, the pitcher at dinner, the post-dinner drink, and of course drinks at the show. I didn't realize at first that I was so off-balance, until I made a trip to the bathroom. I have the stumble bruises to testify that there is molding on the wall outside the restrooms. So I'd give you the play by play, but I don't remember everything clearly. I have been told that I more or less invited J's brother to fuck me. Seeing as he does have a girlfriend and my drunk ass said that in front of everyone? Awkward! Add to that I can't remember what I said to even defend it? Yeah. Then apparently I stuck my ass in this one dude's face while I made out with a piece of cake. Then there were the text messages and facebook statuses that I 'found' the next day. Good grief it was messy. M texted me the next night with a simple, 'So I take it you had a good time last night?' Have mercy! Well, that's all the wickedness I have this week! Visit all the hostesses and link-up!