So thanks to
Boobies
and
Christy
, we all have an outlet every week to vent out our anger. I for one appreciate the 'blog-accepted' outlet, because none of us want to bitch out every day about mundane shit. But on Fridays? Totally acceptable! So here I go!
Fuck not having great plans for debauchery this weekend! I have a whole house to myself for once, and not a single plan for getting into trouble. How did that happen? Oh well... hot baths here I come!
Fuck facebook. I'm so tired of people's righteous anger over shit that doesn't even matter. Facebook is a place for social networking, didn't your mama teach you that political debates don't constitute friendly conversation? I just want to see pictures of my friend's bachelorette party, not read your shit about why you're right and the rest of the world is wrong! Find a breathing human being that gives a damn- de-friend!
Fuck all these people crowding my people. Example, I went to visit my mama last night, because she asked, and damn if her friends weren't there and I couldn't even talk to the woman. Another example? J's needy friend that has taken up, 1,2,3 days in a row now. Didn't I mention I had a free weekend bitch? Why are you entitled to my friend anyway? (A bit of a selfish rant I know, but you'll get over it.)
Fuck not having money to burn. So many things on my 'want' list right now, but I just can't justify spending the money yet.
I guess that's it for the week. I'm kinda where I was last week. Being angry takes effort and I've reached a point of just wanting people to chill.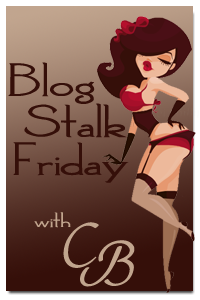 Go check out
CB
for BSF! She wants ideas for how to spice up the Blog Stalk, you creative folks help come up with something!