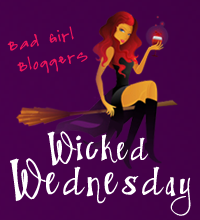 So I had to think long and hard to figure out if I ever got busted for anything good. I mentioned sneaking out the window when I was 12, and my roommate walking in to find me straddling T in college, but those aren't that bad. I think the problem is that I don't try to hide things, so I don't really get busted. I also don't have kids to walk in on me, or anything like that. I've lied when I've called in sick before but lucky for me I've never got caught when it mattered.
I'm acting like it's a problem that I've never gotten caught! I should count myself lucky! I did think of something to tell you about though. I wasn't doing anything wrong really, but when I was a senior in high school, I was on a trip with the youth group. You know those youth group trips ;) Anyway. My roommates had gone downstairs to meet everyone else and I was running behind, per usual. So I was the only one in the hotel room. I was walking around in my matching bra and underwear and I went to get something out of my suitcase... next to the sliding door.
It didn't phase me until I was there, that even though we were about four floors up, the curtain was open, and the hotel had an L-shape so my balcony faced balconys just around the corner on the same hall... where all the guys were staying.
They hadn't gone downstairs yet either, and before I knew it I was on display for not just the little 6th grader who saw me and ran in to tell the rest of the guys, but by all of the guys in out youth group who'd rushed out on the balcony. This of course included T, C, and M, among others.
So even though I didn't really do anything wrong, I definitely got caught with my pants down, so to speak. What's your busted story? Hop on over to BGB and link up!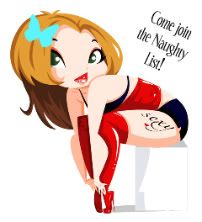 Miss C is out of pocket this week with some family struggles. Drop by and show her your love and keep her in your thoughts. I don't know if someone is going to host the Naughty List this week, but I'll make one anyway.
1) I had to rush around hiding sex toy packaging this weekend since the sisters were here. One of them got into my sex toy drawer and left it open? What the hell? Couldn't you shut it when you realized what was in there? No need to leave the drawer open for the world to see! (Problem solved with a sex toy box that came in the mail this weekend.)
2) I'm currently working on an excuse not to drive foru hours round trip to my sisters competition this weekend. I just don't want to go. I want to sit at home with my Halloween movies and take-out.
3) I really want to call in sick today because I don't want to do this education that got pushed off on me for this afternoon. I won't, so technically it's not Naughty List material, but man. I really don't want to do this thing.
*** Oh man oh man, Nanny wants us to tell about our first time. Geez! Alright, here it is!***
So, I was older by the time I actually lost my V-card. The guy was the brother of a friend and honestly, we'd fooled around so much by the time I decided I was through waiting. It wasn't a monumental moment or anything. We weren't in a real relationship because he didn't live around here, but he was in town visiting family and he came over to hang out. We fooled around on the sofa until my sister came home, then we talked to her for a few minutes before going up to my room. I hear a lot of people say that no one truly enjoys their first time, but I disagree. It was a night for the books. I had about four orgasms that night and probably two the next morning. I was sore, but it was a good sore. I wasn't in pain, and the screaming wasn't the kind you complain about ;) He actually asked me if I lied about being a virgin?! I was like, really? Why would I lie about that? Anyway. He spent the night and was really sweet when he left the next morning. The on again off again visits lasted a little while before I found out things I didn't want to know and decided it was time to end that fling. That was my first time. Hope my girl C doesn't decide to read today ;)
Ok guys! Check out the Hostesses, hopefully The Naughty List will go out today.