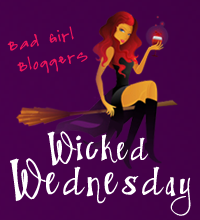 It's finally here! It's Wicked Wednesday over at
Bad Girl Bloggers
. I've been participating in the Naughty List on Wednesdays for a while, and I'll admit that I'm running out of things to confess to. So for my wicked tale I'm going back to Naughty List #3. Remember the guy I talked about taking to my mom's empty rental? Well, the first time that I messed around with him involved a little B&E.
The girl that I was hanging out with at the time was crashing with her brother and sister-in-law temporarily. They'd gone out of town one weekend and we called up the gang and went out to country bar for liquor and dancing. Once all but two of us, the drivers, had gotten good and plastered we headed back to the house. Now, this guy had a girlfriend, but she lived four hours away, and we were with two other couples, so the natural progression of things led to us hooking up that night. And a few more times after that.
But first, we had to get inside. In her drunken state my friend couldn't quite figure out what had happened to her keys, and cowboy had to break-in to her house. Once we'd climbed though the window, we let the other two in and and claimed a bedroom. It was quite interesting the way she later explained the messed up curtains, and the fact that her brother and sister-in-law's bed wasn't made quite the way they'd left it.
Her sister-in-law is still a friend of mine and to this day I haven't fessed up to everything that happened in her house while she was gone.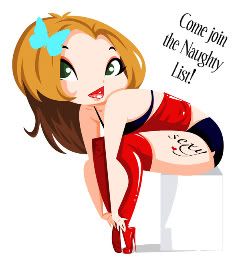 Now onto the Naughty List! This week, not only are we listing 3 naughty things we've done, but we are answering some questions from Miss C!
1. I did some serious drunk texting damage last night. Like seriously, I'm going to be cleaning this up for a while I would imagine. And yes, it involved the choir director.
2. I didn't work at all yesterday. Like honestly, not even a little bit. I read blogs, played on twitter, and shopped for the contents of this prize package.
3. I ate cookies for breakfast today and yesterday. Breakfast of champions, I know. Call me a fat kid if you'd like. They were on the counter, and I was running late.
Miss C's questions!
1. What time of day are you generally in the mood?
Anytime really... like now even.
2. Have you ever had sex at work? Would you?
With a person? Haha, no, not yet. I'm not opposed to the idea though.
3. Ever had a moment as a mom/wife/friend where you thought MAN I am a horrible mom/wife/friend and I just don't care right now? Explain.
Um, yes. Almost everytime I am with a certain "friend" who I can't really call a friend anymore. I just wish she would disappear, and I just don't care enough to really feel bad about it.
4. What is the sexiest thing you own?
I'm going to interpret this as clothing, and it's probably the vintage teddy ensemble that I bought for some boudoir pics I never got to take.
5. Name a sexual regret from your youth.
Not sleeping with my first love. I know, odd regret right?
Check out the Hostesses and link up!!!
Miss C
Naughty Mommy
A Spicy Boy, a Cat, and my Fat Ass
the mom who stayed sober
Lunatic Cafe
Oh yeah guys, and a shameless plug here. Check out the
Scandalous Lipstick Shorts
contest and write an entry! I think it will be fun to see all the different names and stories. And it really will be a prize worth winning, I promise!