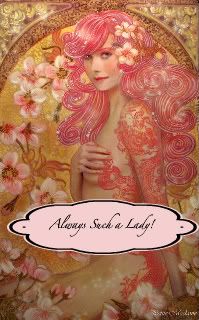 Looky what I got :)
1. Thank the giver!
2. In your post accepting your award write what Being A Lady means to You.
3. Give this award to whom You want to, and tell them why they are a Real Lady to you.
So Obviously, THANKS MISS C ;)
She really is awesome, if you've yet to discover the woman behind The Naughty List you need to!
So what does being a lady mean to me? I had to think about this a little bit. I think that being a Lady means being true to exactly who you are, without shame, without hesitation. That being said, I chose these lovely ladies to receive this award!
I choose
The Invisible Seductress
(yeah, you have another one!) because she deals with a lot of crap, and yet she is still always refreshingly and un-apologetically herself. This always makes me smile :)
I also choose
Drinks with the Diva
, pretty much for the same reason, and because no matter what that sexy woman does, she always seems to do it with confidence and grace :)
And then there is Nanny, at
Naughty Mommy Reviews and Junk
. I chose her because, well, go check her out. I'm confident you will understand. If I ever had to choose a blog other than my own that I wished I hosted, it would likely be hers. She's classy, and naughty, all at the same time! Gotta love that!
So Ladies, I hope you enjoy your award!