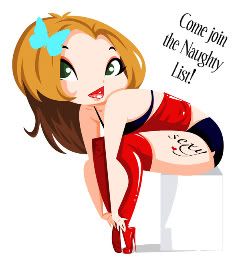 Ok, Rules are.... list 3 Naughty things you've done, visit the Hostesses and Link-Up!
1) I fooled around with my ex once in a hotel room while his mom was sleeping in the other bed.
2) I cyber-stalk my ex's ex. Like really, I check her 'wall' everyday. I really just want to know when the divorce is final, but it's her fault right? I mean, she should privacy protect don't you think?
3) I blog, and read blogs when I should be doing work... like right now :)
Hostesses:
Miss C
Naughty Mommy
A Spicy Boy, a Cat, and my Fat Ass
the mom who stayed sober
Lunatic Cafe