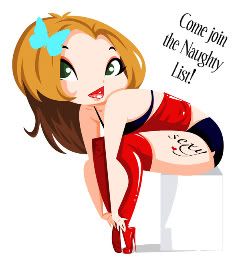 Ok guys, so I mentioned last week that I was running out of Naughty things to tell on myself for, and I'm working on more naughty deeds for you guys, but it takes some planning. Just know that I hope to have you salivating again soon. For this week, here's what I have.
1) I participated in 'group cheating' in college. In one of our psych classes we all sat in a circle on the floor and did the test together.... honor code.
2) I let the friend of a friend grope me in the parking lot (and I may have done a little groping of my own) even after I decided I wasn't going to sleep with him.
3) The ONLY reason I didn't sleep with the sexy landscaper the night I took his drunk ass home was because I had to take the guy who'd driven his truck back to the bar. (I know, I didn't actually DO anything, like I said, I'm reaching here.)