If the
Diva
is doing it, I must get in on it!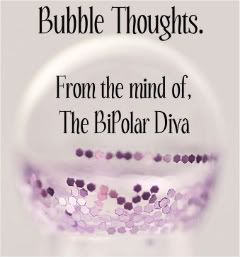 So, I don't have "bubble thoughts" this week. I'll have to make mental notes this next week so I have something good next week. Instead, today you get spoken thoughts.....
Remember me telling you guys a while back that I was going to think of some good stuff for sexy scenes? I jotted a few notes in court one day and stuck the folded paper in my purse. At some point the paper went from my purse, to a make-up bag, and from there.... well.
Yesterday at lunch:
J: Oh, by the way (laughing) you left a piece of paper at my house.
D: What was it?
J: It had blog scenes written on it?
D: Shit! (laughing) sorry.
J: A found it and..
D: Shit! A read that!
J: He thought it was something of mine!
D: Shit, what did you tell him?
J: well, I told him I knew you had a blog and it was probably yours.
Ok, at this point, there was a lot of swearing from me, quietly though, there was an old lady in the booth across from us. I was flipping out!
J knows about the blog, but she'd never read it. My other friends? No, they don't know. I talk about some of them for goodness sake!
So now, J's man, A, knows I have a blog where I write about sex, oh, and her brother! So yeah. I'm looking forward to seeing them again.... haha. Whatever. It's me, right? Somehow I doubt they were all that surprised.
They don't have the URL, so no worries, but my girl J does now. It only seemed fair. She did point out to me that to be such an integral part of my life she doesn't make that many appearances. Although after reading some of the bitchy things I say about some other people she's probably glad, haha.
Check out the
Diva
and
Miss C
!