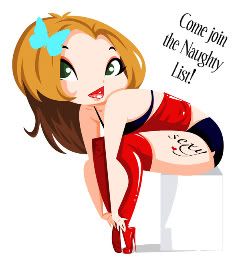 It's Naughty Time!
1) Apparently, I do a little pole dancing when I've been drinking.
2) Since my job keeps me in and out of the county courthouse, I keep an eye on the Family Court Dockets in case I know any hotties getting divorced. Then I show my ass in some hot little get-up when I "bump into" them.
3) I made out with this guy that I barely knew in the kitchen of a hotel. By barely knew, I mean that I had worked with him previously for a short period of time before he was arrested at work one day..... he was soo hot though!
That's all this week, check out the Hostesses!
Miss. C
Boobies
Naughty Mommy
Lunatic Cafe