So
CB
decided to change FUFF to Blog Stalk Friday, and because she is the shit (and she could likely kick my ass) I won't argue. Besides, this new little button is the shit! It's even got my ass! See that ghetto booty? Swear mine looks just like it! ;) It makes me want to blast out some Kid Rock and dance on a pole... just me? Oh.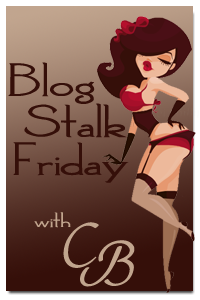 Anyway, time for Fuck you Friday :)
Fuck you laryngitis. I kept my big mouth shut for two days and that's all your getting from me, even if I do still sound like a frog. I lost money last night since I couldn't work and I'll be damned it you're going to stop me from anything else this week.
Fuck you bad hair day. Yeah, that's right. The first day that I can get up and fix myself for the enjoyment of the world and you decide not to cooperate? Well, fuck it! I'm fucking fantastic anyway. No problem my amazing sunglasses can't fix ;)
Fuck you scales. You finally moved that one significant pound that makes me feel like I need to be losing weight again. Shit! One of these days I'm going to make you my bitch and you will say exactly what I want you to say, or I will shatter you against the damn wall!
Ok, I'm done with that for today. Go visit
Boobies
and link-up if you need to get it off your chest. I do plan to take it easy this weekend and work on the book some. I got into it yesterday and I feel like I've got my second wind. What?! Yeah I know, it's awesome. I also recognize that with all my whining and being sick this week, you guys haven't gotten any sexy stories! I'm going to work on that this afternoon. Then again it's the weekend and isn't that where the whining started? Oh well, I'll give it to you anyway ;) I'll be back this afternoon!